Firewall & Virus Protection Solutions
The emergence of the Internet and the low cost of "Broadband" is now allowing both small and mid-sized companies to compete more efficiently. It has become a necessity if not a requirement to have an Internet Business presence. However the Internet has also brought with it a greater than ever need for Network Security. As any growing e-mail dependent business knows, the gift of e-mail needs to be protected and monitored. You must have up to date Anti Virus protection, and if you have 7/24 Internet connectivity such as DSL, Frame-Relay or T1, then you must have a monitored Firewall solution.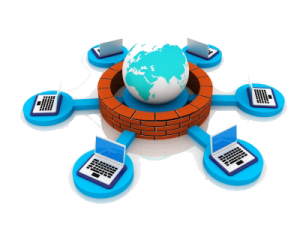 We have been called upon to eradicate virus outbreaks that have caused major data destruction and a large loss in production time. Our recent experience has proven that companies believing they were safe simply because they installed desktop virus software still became infected. Companies fail to monitor and update virus definitions on workstations and servers leaving themselves exposed to disaster.
Installing and monitoring updates is time consuming and will push up the "Total Cost of Ownership". Antivirus definition files are updated almost daily as new viruses are discovered. Our solution of choice to help solve this problem is:
Firewall Solutions