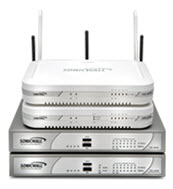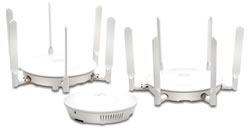 Network Security Products
The SonicWALL family of firewalls tightly integrates intrusion prevention, malware protection, and Application Intelligence and Control with real-time Visualization. The SonicWALL Reassembly-Free Deep Packet Inspection engine scans 100% of traffic and massively scales to meet the needs of the most high-performance networks.
WAN Acceleration Appliance (WXA) Series The SonicWALL WAN Acceleration Appliance (WXA) Series improves the end user experience and increases the effectiveness of existing infrastructure by reducing application latency and conserving bandwidth for small- to medium-sized organizations with remote and branch offices.
The SonicPoint Series models, SonicPoint Series wireless access points combine with our award-winning line of next-generation firewalls to deliver unparalleled wireless security and performance while drastically simplifying network setup and management.