Microsoft Terminal Services
The Terminal Services component of the Windows® Server operating system delivers the Windows desktop and the latest Windows-based applications to a wide variety of desktops, including those that normally would not be able to run Windows. Through terminal emulation, Terminal Services allows the same set of applications to run on diverse types of desktop hardware.
Application server mode gives systems administrators the ability to centrally deploy applications, saving time and effort developing, supporting and maintaining the application on each device and platform. Remote administration mode gives administrators the ability to fully manage computers running Windows Server from anywhere, be it inside the computer room or halfway around the world. Both modes allow applications to perform efficiently over low-bandwidth connections as only the application display and user input are transmitted between the server and the client.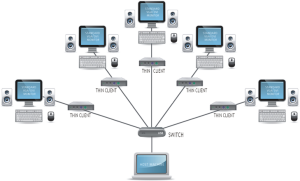 Organizations wanting more flexibility deploying applications, better control of the desktop and lower management costs, are a good candidate for Terminal Services.
Employees often need to work remotely. Whether the computer is Microsoft Windows, Apple Mac OS X desktop or even Linux, it is possible with today's technology. We can use VPN technology or secure RDC solutions to access data and applications.